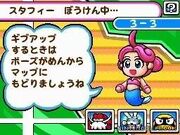 Mermaid Gossip is a new feature in The Legendary Starfy for the Nintendo DS. The character Mermaid appears as the guide in Mermaid Gossip where her function is to give Starfy advice and info in order to help him progress through the story. Often times, however, it is just obvious or even just unhelpful, well, gossip.
Features:
Edit
Ad blocker interference detected!
Wikia is a free-to-use site that makes money from advertising. We have a modified experience for viewers using ad blockers

Wikia is not accessible if you've made further modifications. Remove the custom ad blocker rule(s) and the page will load as expected.