Only in Japan!

Gomenasai!
"This article is related to a game that has not been released outside Japan. The coverage here may differ from what it would be in an official translation."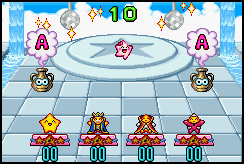 Pufftop Dance Battle is a minigame in Densetsu no Stafy 3. Player 1 plays Starfy, player 2 plays Papa Star, player 3 plays Mama Star, and player 4 plays a Pufftop Guard.
How to play
Edit
You have to watch Starly dance then remember her dance moves and copy them. Everyone that danced correctly get a point. The control pad and the A and B buttons are used for the moves. Whoever has the most points after ten rounds is the winner.
Ad blocker interference detected!
Wikia is a free-to-use site that makes money from advertising. We have a modified experience for viewers using ad blockers

Wikia is not accessible if you've made further modifications. Remove the custom ad blocker rule(s) and the page will load as expected.