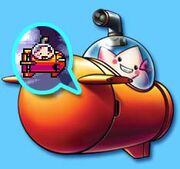 Submarine is an ability taught by Choan in Densetsu no Stafy 3. As it's name implies, Starfy or Starly ride a submarine when using it. It is very similar to the Angler ability without the upgrade.
Use the control pad to move in any direction. It's pitch black in every area it's used. Press the A button to make a light appear for a limited amount of time. When it's upgraded you can shoot a missile by pressing the B button.
Ad blocker interference detected!
Wikia is a free-to-use site that makes money from advertising. We have a modified experience for viewers using ad blockers

Wikia is not accessible if you've made further modifications. Remove the custom ad blocker rule(s) and the page will load as expected.